Saturday 2nd of December 2023
"Your World e-connection"
Beechcraft 1900D - EuroHarmony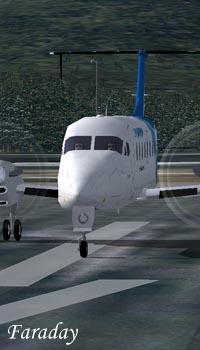 53 Operational
Pratt & Whitney engines
1200 nm range
19 pax, 1 t cargo capacity
Beech Airliners helped build the regional airline market into what it is today. And Raytheon Aircrafts Beech 1900D continues the tradition with a stand-up cabin and passenger comforts that are comparable to large jet airliners. The 1900D Airliner allows operators to fly profitably on routes that might be marginal for other aircraft.
Excellent block times, exceptional reliability and generous cabin and cargo space have helped establish the 1900D as a market leader. This aircraft has been in EuroHarmonys fleet since the airline was opened and it appears to be the most popular Class 1 aircraft among our pilots. We use the 1900D as a fast and comfortable commuter airliner that connects close cities.'
General Information

Length
17.63 m
Wingspan
17.67 m
Height
4.72 m
Engine
PW PT6A67D
Cruise Speed
250 kts
Service Ceiling
25,000 ft
Gross Weight
7.7 t
Capacity
19 pax | 1 t
Crew
2 pilots, 1 air-host
Price
3.9M EUR
Manufacturer
RAYTHEON
Pictures
Airliners.net

Operating Information

OEW
10,790 lbs
MTOW
17,120 lbs
Fuel Capacity
670 gal
Fuel Weight
4,040 lbs
Long Range Altitude
FL230
Long Range Speed
250 kts
Max Speed
280 kts
Range (MLoad...MFuel)
1,200... 2,200
Engine Thrust
2x1280 HP
Takeoff RWY Length (Min)
3,800 ft
Takeoff RWY Length (Max)
5,200 ft
Landing RWY Length
2,800 ft
V Rotate / Flaps
120kts / Down
V Approach / Flaps
110kts / Full
Max climb rate
3000 ft/min
Max descent rate
-3000 ft/min
Liveries and Downloads
MSFS 2002
---

MSFS 2002



MSFS 2002


MSFS 2004
---

MSFS 2004



MSFS 2004 (PAD)



MSFS 2004



MSFS 2004 (PMDG)
Payware



MSFS 2004 (PMDG)
Payware



MSFS 2004 (PMDG)
Payware



MSFS 2004



MSFS 2004


MSFS X
---

MSFS X (PAD)



MSFS X



MSFS X (PAD)


X-Plane 9
---

X-Plane 9 (TwinPropFlyer)



X-Plane 9 (TwinPropFlyer)