Saturday 2nd of December 2023
"The Wings of Europe"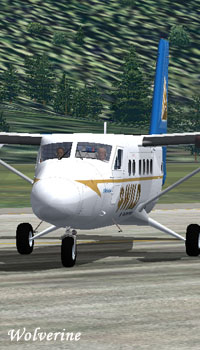 24 Operational
Pratt Whitney engines
700 nm range
19 pax, 300 lbs cargo capacity
Still Canadas most successful commercial aircraft program with more than 800 built, the Twin Otter remains popular for its rugged construction and useful STOL performance. Development of the aircraft began in 1964, with the first flight on May 20, 1965. A twin-engined replacement for the single-engined Otter. To bush operators, the improved reliability of turboprop power and the improved performance of a twin-engined configuration made it an immediately popular alternative to the single engine, piston-powered Otter.
The WILD Twin Otter is actually the Series 300 variant, which was introduced from the 231st production aircraft in 1969. It too featured the lengthened nose, but also introduced more powerful engines, and higher takeoff weight. The aircraft was made by Premier Aircraft Design using Gmax.
General Information

Length
15.77 m
Wingspan
19.81 m
Height
5.94 m
Engine
PW PT6A-27
Cruise Speed
160 kts
Service Ceiling
26,700 ft
Gross Weight
6 t
Capacity
19 pax | 300 lbs
Crew
2 pilot 1 air-host
Price
1.8M EUR
Manufacturer
Bombardier
Pictures
Airliners.net

Operating Information

OEW
7,415 lbs
MTOW
12,500 lbs
Fuel Capacity
380 gal
Fuel Weight
2,545 lbs
Long Range Altitude
FL200
Long Range Speed
150 kts
Max Speed
180 kts
Range (MLoad...MFuel)
700... 950
Engine Thrust
2 x 680 HP
Takeoff RWY Length (Min)
700 ft
Takeoff RWY Length (Max)
860 ft
Landing RWY Length
600 ft
V Rotate / Flaps
90kts / 20 deg
V Approach / Flaps
98kts / 35 deg
Max climb rate
2000 ft/min
Max descent rate
-2000 ft/min
Liveries and Downloads
MSFS 2004
---

MSFS 2004



MSFS 2004


MSFS X
---

MSFS X



MSFS X



MSFS X (Aerosoft)
Payware



MSFS X (Aerosoft)
Payware



MSFS X (Aerosoft)
Payware


X-Plane 9
---

X-Plane 9