Saturday 2nd of December 2023
"Your World e-connection"
Pilatus PC-12E - EuroBusiness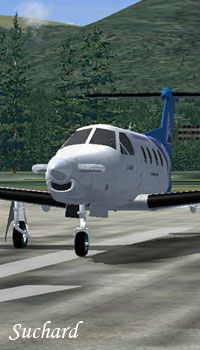 30 Operational
Pratt Whitney engines
1500 nm range
6 pax, 150 lbs cargo capacity
The Pilatus PC-12 is a corporate commuter and utility turboprop aircraft. The aircrafts first flight was in 1991. The aircraft is certified in 20 countries and over 1000 PC-12 aircraft have now been delivered.
The aircraft, which seats up to nine passengers, is configured in VIP, business passenger and combined passenger cargo configurations. The aircraft is also supplied in the PC-12 Spectre variant which is a family of special mission surveillance aircraft. The PC-12 is certified for flight for single pilot commercial instrument flight rules (IFR) operation and for operation in known icing conditions. The aircraft can operate from short fields, grass and unmade runways.
General Information

Length
14.4 m
Wingspan
16.23 m
Height
4.27 m
Engine
PW PT6A67
Cruise Speed
270 kts
Service Ceiling
30,000 ft
Gross Weight
4.7 t
Capacity
6 pax | 150 lbs
Crew
1+1 pilots
Price
4.5M EUR
Manufacturer
Pilatus
Pictures
Airliners.net

Operating Information

OEW
6,370 lbs
MTOW
10,450 lbs
Fuel Capacity
402 gal
Fuel Weight
2,700 lbs
Long Range Altitude
FL260
Long Range Speed
240 kts
Max Speed
270 kts
Range (MLoad...MFuel)
1,500... 2,200
Engine Thrust
1200 HP
Takeoff RWY Length (Min)
1,500 ft
Takeoff RWY Length (Max)
2,300 ft
Landing RWY Length
1,500 ft
V Rotate / Flaps
85kts / 10 deg
V Approach / Flaps
85kts / 40 deg
Max climb rate
3000 ft/min
Max descent rate
-3000 ft/min
You will be able to fly this aircraft in 2 promotions
Liveries and Downloads

MSFS 2002

---

MSFS 2002


MSFS 2004

---

MSFS 2004

MSFS 2004 (Flight1)
Payware


MSFS X

---

MSFS X

MSFS X (Flight1)
Payware


X-Plane 9

---

X-Plane 9 (X-Scenery)
Payware

here
X-Plane 9 (STMA)
Payware