Tuesday 18th of January 2022
"Your World e-connection"
Shorts 360-300F - EuroCargo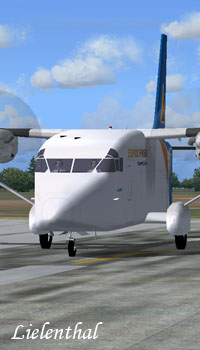 31 Operational
Pratt & Whitney engines
400 nm range
0 pax, 3 t cargo capacity
The Shorts 360 is a stretched, larger capacity and improved 36 seat derivative of the 30 seat Short 330. Shorts announced it was developing the new airliner in mid 1980, and a prototype 360 flew for the first time almost a year later on June 1 1981.
The Shorts 360 can operate comfortably from very short runways - opening up hundreds of European airfields inaccessible by scheduled flights. It is also one of the quietest turboprop aircraft operating today. Therefore it's an ideal transport aircraft for short-haul flights and we meet our customers' demands for cargo transport to and from remote and inaccessible airports.
General Information

Length
21.58 m
Wingspan
22.8 m
Height
7.27 m
Engine
PT6A67R
Cruise Speed
215 kts
Service Ceiling
26,000 ft
Gross Weight
3.5 t
Capacity
0 pax | 3 t
Crew
2 pilots
Price
8M EUR
Manufacturer
Shorts
Pictures
Airliners.net

Operating Information

OEW
17,350 lbs
MTOW
27,100 lbs
Fuel Capacity
570 gal
Fuel Weight
3,840 lbs
Long Range Altitude
FL200
Long Range Speed
200 kts
Max Speed
230 kts
Range (MLoad...MFuel)
400... 800
Engine Thrust
2x1424 shp
Takeoff RWY Length (Min)
3,000 ft
Takeoff RWY Length (Max)
4,000 ft
Landing RWY Length
4,000 ft
V Rotate / Flaps
120kts / 15 deg
V Approach / Flaps
100kts / 30 deg
Max climb rate
2800 ft/min
Max descent rate
-2800 ft/min
You will be able to fly this aircraft in 2 promotions
Liveries and Downloads
MSFS 2002
---

MSFS 2002


MSFS 2004
---

MSFS 2004



MSFS 2004 (PAD)


MSFS X
---

MSFS X (PAD)