Tuesday 18th of January 2022
"Your World e-connection"
Dornier 228-100 - EuroHarmony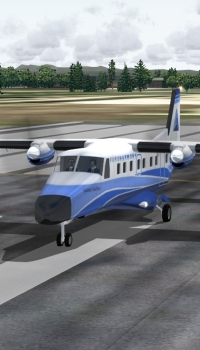 Garrett engines
650 nm range
18 pax, 728 lbs cargo capacity
In the late 1970s, Dornier GmbH developed a new kind of wing subsidised by the German Government. Dornier tested it on a modified Do 28D-2 Skyservant and with Pratt Whitney Canada PT6A-110 turboprop engines. At ILA 80, Dornier presented the new aircraft in public. The prototypes were flown on 28 March 1981 and 9 May 1981 for the first time.
Over the years Dornier offered the 228 in upgraded variants and with optional equipment for special missions. In 1998 the production line was stopped for better development of the successor Fairchild-Dornier 328.
We used the Dornier 228 as a Class 1 short haul passenger plane. The detailed Gmax model was made by Björn Büchner.
General Information

Length
16.56 m
Wingspan
16.97 m
Height
4.86 m
Engine
Garrett TPE-331
Cruise Speed
170 kts
Service Ceiling
28,000 ft
Gross Weight
6.5 t
Capacity
18 pax | 728 lbs
Crew
1 pilot
Price
2.5M EUR
Manufacturer
Dornier
Pictures
Airliners.net

Operating Information

OEW
8,243 lbs
MTOW
14,550 lbs
Fuel Capacity
630 gal
Fuel Weight
4,156 lbs
Long Range Altitude
FL250
Long Range Speed
200 kts
Max Speed
234 kts
Range (MLoad...MFuel)
650... 715
Engine Thrust
2 x 776 SHP
Takeoff RWY Length (Min)
2,600 ft
Takeoff RWY Length (Max)
3,500 ft
Landing RWY Length
1,500 ft
V Rotate / Flaps
111kts / 5 deg
V Approach / Flaps
99kts / 30 deg
Max climb rate
2000 ft/min
Max descent rate
-3000 ft/min