Saturday 2nd of December 2023
"Your World e-connection"
Antonov AN-148 - EuroHarmony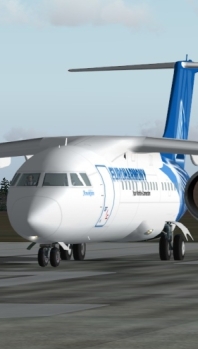 15 Operational
Progress engines
1900 nm range
68 pax, 1,000 lbs cargo capacity
The Antonov An-148 is a regional jet aircraft designed by the Ukrainian Antonov Design Bureau and produced by Ukraine's Kiev Aviation Plant AVIANT and Russia's Voronezh Aircraft Production Association. Development of the plane was started in the 1990s, and the maiden flight took place on 17 December 2004. The plane completed its certification programme on 26 February 2007.
The An-148 has a maximum range of 2,100–4,400 kilometers and is able to carry 68–99 passengers, depending on the configuration. A built-in auto-diagnosis system, auxiliary power unit, high reliability, as well as the wing configuration allow the An-148 to be used at poorly equipped airfields. Other design advantages include the highly fuel-efficient Progress D-436 engines and airstairs that enable boarding and deboarding the plane without extra ground equipment.
General Information

Length
29.13 m
Wingspan
28.91 m
Height
8.19 m
Engine
Progress D-436
Cruise Speed
450 kts
Service Ceiling
40,000 ft
Gross Weight
42 t
Capacity
68 pax | 1000 lbs
Crew
2 Pilots
Price
14M EUR
Manufacturer
Antonov
Pictures
Airliners.net

Operating Information

OEW
50,000 lbs
MTOW
92,500 lbs
Fuel Capacity
3,882 gal
Fuel Weight
26,400 lbs
Long Range Altitude
FL380
Long Range Speed
400 kts
Max Speed
480 kts
Range (MLoad...MFuel)
1,900... 2,200
Engine Thrust
2x 67kN
Takeoff RWY Length (Min)
5,000 ft
Takeoff RWY Length (Max)
6,000 ft
Landing RWY Length
4,500 ft
V Rotate / Flaps
120kts / 10 deg
V Approach / Flaps
115kts / 35 deg
Max climb rate
3600 ft/min
Max descent rate
-3600 ft/min
You will be able to fly this aircraft in 3 promotions
Liveries and Downloads
MSFS 2004
---

MSFS 2004


MSFS X
---

MSFS X


X-Plane 9
---

X-Plane 9