Saturday 2nd of December 2023
"Your World e-connection"
Airbus A330-300 - EuroHarmony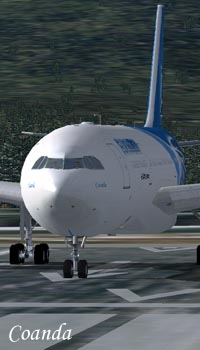 44 Operational
Rolls-Royce engines
4600 nm range
335 pax, 15 t cargo capacity
The A330-300 is the biggest member of Airbus twinjet family and is closely related to the four engined long range A340 with which it shares near identical systems, airframe, flight deck and wings, the only major difference being the twin (versus four) engine configuration.
With true widebody comfort, the volume efficiency of this aircraft is such that, after allowance for passenger baggage, it has more space for cargo than in a 747, while offering unbeatable seat-mile costs. Highly efficient, optimized for the medium- to extended-range market, it is the uncompromized solution to the rangecost dilemma.
The aircraft was made by Project Opensky in Gmax.
General Information

Length
63.69 m
Wingspan
60.3 m
Height
16.83 m
Engine
RR Trent 772
Cruise Speed
470 kts
Service Ceiling
41,000 ft
Gross Weight
228 t
Capacity
335 pax | 15 t
Crew
2 pilots 10 air hosts
Price
140M EUR
Manufacturer
Airbus Industrie
Pictures
Airliners.net

Operating Information

OEW
268,900 lbs
MTOW
507,000 lbs
Fuel Capacity
25,670 gal
Fuel Weight
169,400 lbs
Long Range Altitude
FL370
Long Range Speed
492 kts
Max Speed
516 kts
Range (MLoad...MFuel)
4,600... 4,800
Engine Thrust
2x68000
Takeoff RWY Length (Min)
7,500 ft
Takeoff RWY Length (Max)
8,200 ft
Landing RWY Length
6,000 ft
V Rotate / Flaps
160kts / 14
V Approach / Flaps
145kts / 32
Max climb rate
3500 ft/min
Max descent rate
-3000 ft/min
You will be able to fly this aircraft in 5 promotions
Liveries and Downloads

MSFS 2002

---

MSFS 2002

MSFS 2002


MSFS 2004

---

MSFS 2004

MSFS 2004 (PSS)
Payware

MSFS 2004


MSFS X

---

MSFS X (Wilco)
Payware