Saturday 2nd of December 2023
"Your World e-connection"
Boeing 747-400F - EuroCargo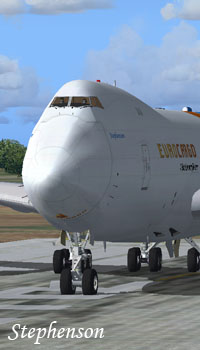 26 Operational
Rolls-Royce engines
4400 nm range
0 pax, 113 t cargo capacity
The 747-400 is the latest, longest ranging and best selling model of the 747 family. The 747-400 externally resembles the -300, but it is a significantly improved aircraft. Changes include a new, two crew digital flight deck with six large CRT displays, an increased span wing with winglets, new engines, recontoured wingfuselage fairing, a new interior, lower basic but increased max takeoff weights, and greater range.
The latest model is the 747-400ER, which was launched on November 28, 2000. A cargo version, the 747-400ERF, followed the standard -400ER, and was launched April 30, 2001. The 747s that EuroCargo use are the older version 747-400F Freighter which combines the 747-200Fs fuselage with the -400s wing. Gmax model by Meljet.
General Information

Length
70.67 m
Wingspan
64.44 m
Height
19.41 m
Engine
RR RB-211
Cruise Speed
490 kts
Service Ceiling
45,000 ft
Gross Weight
385 t
Capacity
0 pax | 113 t
Crew
2 pilots 4 loaders
Price
220M EUR
Manufacturer
Boeing
Pictures
Airliners.net

Operating Information

OEW
366,080 lbs
MTOW
850,000 lbs
Fuel Capacity
53,985 gal
Fuel Weight
360,220 lbs
Long Range Altitude
FL400
Long Range Speed
504 kts
Max Speed
540 kts
Range (MLoad...MFuel)
4,400... 7,500
Engine Thrust
4 X 59500 LB
Takeoff RWY Length (Min)
9,500 ft
Takeoff RWY Length (Max)
10,500 ft
Landing RWY Length
8,000 ft
V Rotate / Flaps
180kts / 10 deg
V Approach / Flaps
160kts / 30 deg
Max climb rate
3500 ft/min
Max descent rate
-3000 ft/min
You will be able to fly this aircraft in 6 promotions
Liveries and Downloads
MSFS 2002
---

MSFS 2002


MSFS 2004
---

MSFS 2004



MSFS 2004



MSFS 2004 (PMDG)
Payware



MSFS 2004 (PMDG)
Payware


MSFS X
---

MSFS X



MSFS X



MSFS X (PMDG)
Payware



MSFS X (PMDG)
Payware