Saturday 2nd of December 2023
Flight Simulator 2004, Flight Simulator X and X-Plane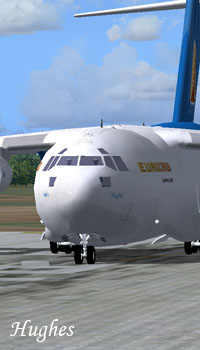 21 Operational
Pratt Whitney engines
2900 nm range
0 pax, 78 t cargo capacity
The portly but manoeuvreable C-17 was born in to become the backbone of the USAFs strategic transport force. The development of the C-17 began in February 1980 when USAF ordered a new cargo transport, for replacing the C-141 Starlifter and supplanting the C-5 Galaxy heavy transport aircrafts. The contract was won by McDonnell-Douglas, and they delivered the first aircraft in 1993.
The aircraft cockpit features digital displays and Fly-By-Wire control system. The aircraft have the same PW-2040 turbofan engines, that are also used on the Boeing 757. The placement of engines led to STOL capabilites, and operation of the aircraft on relatively short runways. EuroCargo is among the few operators which already uses the commercial version designated to MD-17.
FS20022004 Gmax model by Mike Stone.
General Information

Length
53.04 m
Wingspan
51.71 m
Height
16.79 m
Engine
PW 2040
Cruise Speed
460 kts
Service Ceiling
44,000 ft
Gross Weight
265 t
Capacity
0 pax | 78 t
Crew
2 pilots 3 loaders
Price
190M EUR
Manufacturer
Boeing
Pictures
Airliners.net

Operating Information

OEW
269,000 lbs
MTOW
585,000 lbs
Fuel Capacity
27,424 gal
Fuel Weight
183,740 lbs
Long Range Altitude
FL300
Long Range Speed
444 kts
Max Speed
480 kts
Range (MLoad...MFuel)
2,900... 3,800
Engine Thrust
4 x 40400
Takeoff RWY Length (Min)
6,000 ft
Takeoff RWY Length (Max)
7,600 ft
Landing RWY Length
3,000 ft
V Rotate / Flaps
130kts / 20 deg
V Approach / Flaps
110kts / 40 deg
Max climb rate
4000 ft/min
Max descent rate
-4000 ft/min
You will be able to fly this aircraft in 5 promotions