Saturday 2nd of December 2023
"The Wings of Europe"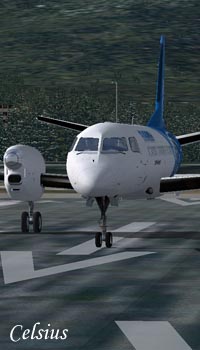 26 Operational
Rolls-Royce engines
900 nm range
50 pax, 1 t cargo capacity
Saab has a history of being first on the market with new concepts, both in military and commercial aircraft. The Saab 340 helped move regional air travel forward in the early 1980s by offering better comfort and higher speeds than the previous generation of regional aircraft.
The Saab 2000 has the range and speed to offer regional airlines greater productivity with superb economics. Jet-like performance with up to 370 knots cruise speed, a service ceiling of 31,000 ft and rapid rates of climb combine to provide a high degree of operational flexibility.
General Information

Length
27.28 m
Wingspan
24.76 m
Height
7.73 m
Engine
AE 2100-A
Cruise Speed
350 kts
Service Ceiling
31,000 ft
Gross Weight
19.7 t
Capacity
50 pax | 1 t
Crew
2 pilots 2 air-hosts
Price
12.5M EUR
Manufacturer
SAAB
Pictures
Airliners.net

Operating Information

OEW
30,420 lbs
MTOW
50,265 lbs
Fuel Capacity
1,420 gal
Fuel Weight
9,370 lbs
Long Range Altitude
FL250
Long Range Speed
330 kts
Max Speed
370 kts
Range (MLoad...MFuel)
900... 900
Engine Thrust
2x4125 HP
Takeoff RWY Length (Min)
4,000 ft
Takeoff RWY Length (Max)
4,500 ft
Landing RWY Length
4,200 ft
V Rotate / Flaps
120kts / 10 deg
V Approach / Flaps
120kts / 40 deg
Max climb rate
3000 ft/min
Max descent rate
-3000 ft/min
You will be able to fly this aircraft in 1 promotions