Saturday 2nd of December 2023
"The Wings of Europe"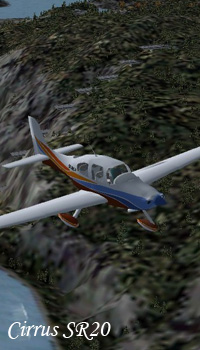 Continental engines
785 nm range
3 pax, 100 lbs cargo capacity
Cirrus Design Corporation's SR-20 is an all new, modern high performance four seat light aircraft. It is one of the most advanced GA planes and offers significant improvements over current four seaters in the areas of performance, interior cabin space and internal noise levels.
The aircraft was made by Guenter Kraemer.
General Information

Length
7.92 m
Wingspan
11.68 m
Height
2.71 m
Engine
IO-360-ES
Cruise Speed
155 kts
Service Ceiling
16,000 ft
Gross Weight
1.5 t
Capacity
3 pax | 100 lbs
Crew
1 pilot
Price
0.3M EUR
Manufacturer
Cirrus
Pictures
Airliners.net

Operating Information

OEW
2,080 lbs
MTOW
3,050 lbs
Fuel Capacity
56 gal
Fuel Weight
336 lbs
Long Range Altitude
FL150
Long Range Speed
155 kts
Max Speed
160 kts
Range (MLoad...MFuel)
785... 785
Engine Thrust
1x200 HP
Takeoff RWY Length (Min)
1,500 ft
Takeoff RWY Length (Max)
2,200 ft
Landing RWY Length
853 ft
V Rotate / Flaps
67kts / 16 deg
V Approach / Flaps
75kts / 32 deg
Max climb rate
1700 ft/min
Max descent rate
-1500 ft/min